Whole school coverage
Be able to check coverage at Area level across the entire school as well as individual year groups.
Track coverage for your whole school by area and WM

View summaries of four purposes coverage for the whole school
Test scores
Track progress through Routes for Learning for learners with profound and multiple learning difficulties (PMLD)
Track PMLD students alongside their peers

View tracking data alongside additional contextual data

Flexible 4 stage tracking of each step and milestone
Custom Principles of Progression (PoPs) and PoP coverage
Break the PoPs down to show what they look like in practice. Check how the PoPs are being covered across the school.
Define for teaching staff how PoPs look for your school

Keep on top of how the PoPs are being implemented across the school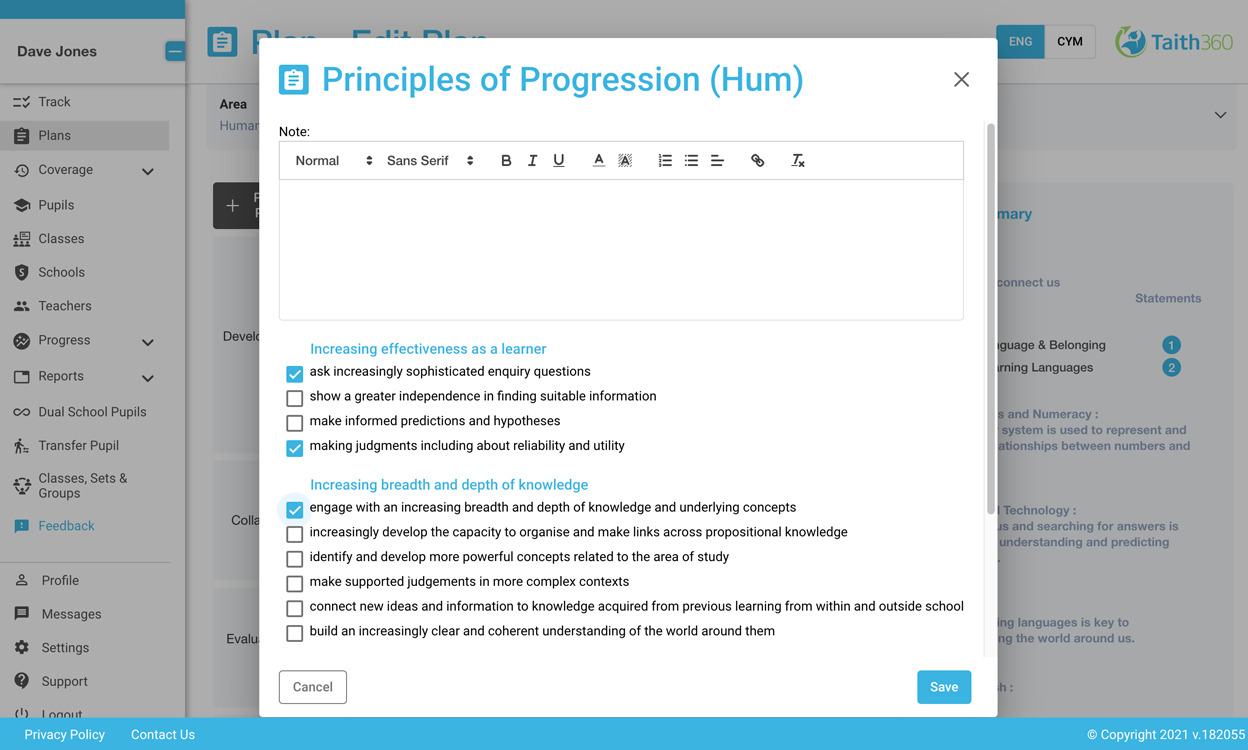 Rate any page and provide comments or suggestions send directly from inside the system.
Break the PoPs down to show what they look like in practice. Check how the PoPs are being covered across the school.
All comments and suggestions are acted on
Progress
View progress made by pupils, classes and cohorts in the current academic year within a specified date range.
See the impact of a particular intervention or unit of work

View progress made across multiple years
Four purpose coverage
Map coverage of the Four Purposes at school, cohort, class, and individual levels
Enables teachers and SLT to ensure that the four purposes are being delivered in a balanced way across the school.

Drill down in to the detail to find out exactly where the delifery of the four purposes can be improved in your setting.

Able to switch between pupils quicker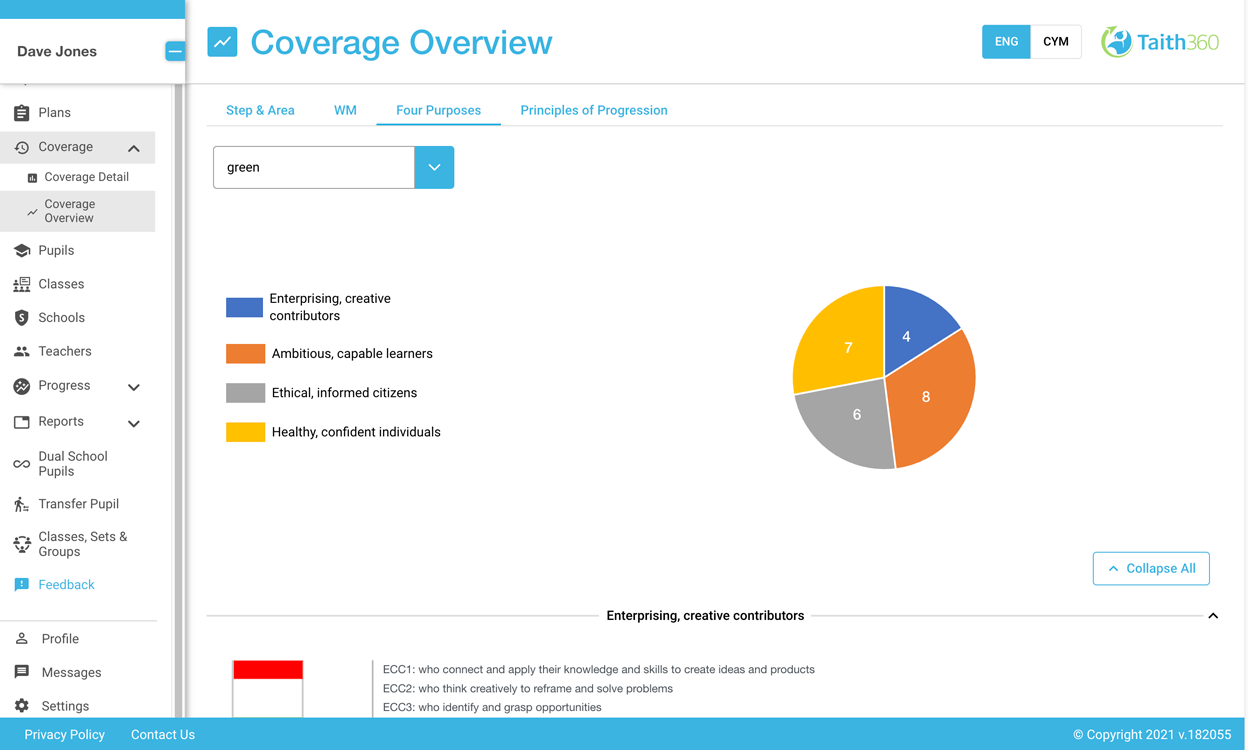 Principles of Progression (PoPs)
Assign key Principles of Progression to your plans, add notes to support its inclusion in your plan and describe how you intend to apply it to your teaching.
Teachers can ensure they have a good grasp of what progression should look like when they are delivering their units of work.

Teachers can select where they feel pupils are within the principles of progression, and use this to help steer the learning taking place in the classroom.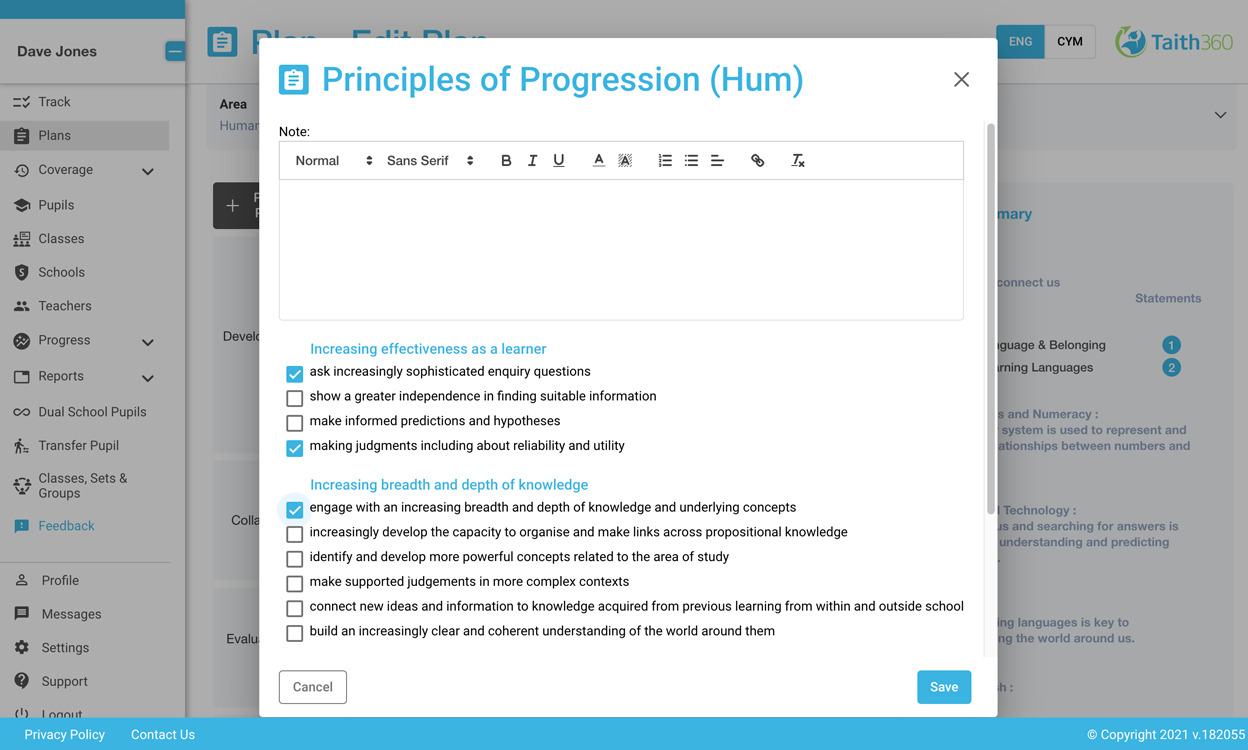 British Sign Language framework
Track progress through British Sign Language
Easily identify pupils, classes or cohorts that may require additional support with their learning of te British Sign Language curriculum.
ABC steps
We have added the ABC steps to the LNF and DCF.
Identify and show progress being made by pupils towards Progression Step one on the Literacy, Numeracy and Digital Competence frameworks.

Ensure that learning can be tracked for pupils not yet ready to access Progression Step one.
Developmental Pathways framework
Access the Developmental Pathways for pupils who are not quite ready to be assessed at Progression Step 1 just yet.
Monitor the progress your pupils are taking towards being able to access the Progression Steps

See progress across the entire curriculum, no matter how small.
Collaborative planning
Allow multiple members of staff to edit and work on the same document for a class.
Have all planning in one place and accessible by all staff.

Reduce duplication of effort and workload.